News Blog
Lake George Region Community and Business Directory
Posted: 10/15/2020 - 1-min read
Share this post:
2020-21 Community and Business Directory!
The Lake George Region is an amazing place to live and work. If you're thinking of moving here or opening a business in the region, click the image below to view our digital Community & Business Directory with helpful facts and information to assist you.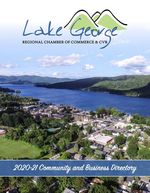 You may also request a paper copy using the form below. Call (518) 668-5755 if you need additional assistance.